Other Events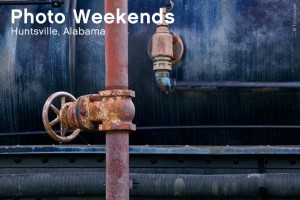 RMSP comes to Huntsville!
Does your weekend to-do list include "get a blast of inspiration," or "become a better photographer…and enjoy every second of it!"
If these items appear on your list, our Photo Weekend in Huntsville, AL can help! Instructors Tony Rizzuto and Tim Cooper provide dynamic seminar-style photo courses that are equal parts education, inspiration and good old-fashioned fun!
This Photo Weekend is designed so that you can tailor your own learning experience to your own needs. Here's how it works: Over the course of the weekend, several sessions are offered. Each session contains two courses. You choose the course that sounds most appealing and applicable to you. The courses within each session are diverse, and offer fitting options for beginners through intermediate amateur photographers. For example, if you have been intimidated by your SLR and want to learn the essentials of photography, in session one you might elect to attend Photography Basics I rather than Workflow: Processing Your Images with Adobe® Lightroom®. Not interested in Shooting and Processing HDR and Panoramic Images? No problem. Simply attend Composition: Designing a Great Photo instead. It's up to you! The final session of the weekend is an engaging, lively and anonymous group critique led by your instructors, which further reinforce many of the topics you learned throughout the weekend.
But that's not all. Each Photo Weekend also includes valuable door prizes, possible visits from industry representatives and your local camera club(s), networking opportunities as well as a designated time for you to learn about the other amazing programs offered by RMSP. These two-day seminars are a convenient, affordable way for you to further your skills without wreaking havoc on your schedule.
Having "Attend RMSP Photo Weekend" on your to-do list will give you something fantastic to look forward to all week!
2013 RMSP Photo Weekend Schedule
Feb 9 & 10
Choose one class per session.
Saturday
8:00 – 8:30 a.m. Check-in
8:30 – 9:00 a.m. Orientation
9:00 – 11:00 a.m.
Session I
Photo Basics I
Workflow: Processing Your Images with Adobe® Lightroom®
11:00 – 11:15 a.m. Break
11:15 a.m. – 1:15 p.m.
Session II
Photo Basics II
Understanding Exposure: Using the Zone System for Color
1:15 – 2:30 p.m. Lunch Break (on your own)
2:30 – 4:30 p.m.
Session III
Introduction to Macro Photography
Understanding Light
Sunday
8:00 – 8:30 a.m. Check-in for Sunday-Only Students
8:30 – 10:30 a.m.
Session I
Shooting and Processing HDR and Panoramic Images
Composition: Designing a Great Photo
10:30 – 10:45 a.m. Break
10:45 a.m. – 12:45 p.m.
Session II
Landscape Photography
Photographing People
12:45 – 2:00 p.m. Lunch Break (on your own)
2:00 – 4:00 p.m.
Session III
Critique
4:00 – 4:30 p.m. Closing Session